Little Axe Rep Legislative Score Card
Oklahoma House Rep. Josh Cockroft is in his first term representing District 27, which includes Little Axe and a major portion of Pottawatomie County. He authored 7 measures for consideration in 2011 and 10 measures in 2012. Below is the summary and the outcome of each one.
Introduced in 2011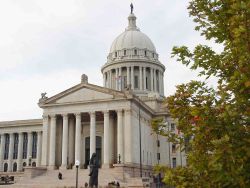 HB 1542, directing the Department of Public Safety to issue distinctive driver licenses to persons convicted of DUI/DWI
- Measure died in committee
HB 1543, introduced version of HB 1543 gradually reduces the personal income tax rate beginning in tax year 2011 and culminating with a complete repeal of the personal income tax in tax year 2016.
- Measure died in committee
HB 1544, changing election dates for elections of school board members and levies.
- Measure died in committee
HB 1545, making certain military students eligible for in-state residency status.
- Measure died in committee
HB 1546, allowing students to receive elective credit for individual community service activities.
- Measure died in committee
HB 1547, deleting all fees associated with concealed carry permit applications.
- Measure died in committee
HJR 1017, A Joint Resolution directing the Secretary of State to refer to the people for their approval or rejection a proposed amendment to the Constitution of the State of Oklahoma; prescribing procedures for computation of revenues derived from county general fund millage rate; requiring separate computations based upon specified taxable valuations; providing for computation of general fund levy based upon incremental increase of taxable values for real property, personal property and public service corporation property; providing for apportionment of designated amount of revenue to County Road and Bridge Construction and Improvement Growth Revenue Fund; providing for apportionment of remaining amount of revenue to county general fund; restricting purpose of expenditures; prohibiting use of revenues for state purposes; providing exception; authorizing enabling legislation; imposing limitation on scope of enabling legislation; providing ballot title; and directing filing.
- Measure died in committee
Introduced in 2012
HB 2379, creates the Oklahoma State Government Open Records One Stop Initiative. Pursuant to the measure, the state's Chief Information Officer (CIO) must create and maintain a place on www.openrecords.ok.gov where the public can request documents pursuant to the Oklahoma Open Records Act. If the documents requested on this webpage are in fact open records, the CIO must provide the files to the requester electronically and then provide for access to the documents via www.data.ok.gov.
- Measure failed: Ayes: 30 Nays: 60
HB 2380, authorizing juvenile facilities to serve free meals to staff and law enforcement personnel.
- Measure died in session
HB 2381, requiring physician prescribing RU-486 to be physically present.
- Measure passed: Ayes: 32 Nays: 9 and signed by Governor
HB 2382, the measure decreases the percentage of signatures needed for a petition to create a district and removes language that states that new district will not affect existing services in the county. The measure authorizes counties and municipalities to raise revenue to cover the cost of the district and states that the county will not be subject to the two percent limitation for consumer sales tax levied for funding emergency medical services.
The measure authorizes utility companies to take a tax credit and provides that the companies will not be liable for any civil action incurred by the district.
- Measure died in committee
HB 2383, allowing firearm training and qualification course providers to determine course fee.
- Measure died in committee
HB 2384, would allow concealed carry permit owners to bring handguns onto elementary and secondary school property.
- Measure died in committee
HB 2436, creates the Rural Emergency Medical Technician and Paramedic Scholarship Program (REMTPSP) to encourage Oklahomans to enter related degree programs and serve two years as licensed emergency medical services (EMS) providers in rural or medically underserved areas of the state. The program is to be administered by the State Dept. of Health (OSDH) and funded by the Trauma Care Assistance Revolving Fund (TCARF) at a minimum of $1,200,000 annually.
It also creates the Rural Emergency Medical Service Survival Program (REMSSP) to ensure access of emergency care to rural and medically underserved areas through the participation of licensed emergency medical service providers that demonstrate need. The program is to be administered by OSDH and funded by TCARF at a minimum of $5,000,000 annually.
The measure requires by 2018 all licensed emergency medical providers to have at least an emergency medical technician and paramedic on every emergency or nonemergency response unless an event occurs that overwhelms the available resources.
The measure also requires paramedic educational programs offered by Oklahoma higher education institutions, tribal entities and technology centers to be approved by OSDH.
- Measure died in committee
HB 2437, modifies the zone of safety provisions which prevent registered sex offenders from loitering near schools, child care centers, playgrounds or parks. The measure prohibits these offenders from being near a protected place if the victim of the offender was under the age of 18. Currently the zone of safety only applies if the victim was under the age of 13.
- Measure died in committee
HB 2438, designating the Deputy Mike Roberts and Deputy Tim Lowery Memorial Highway.
- Measure died in committee
HB 2439, creates the Volunteer Firefighter Protection Act. The measure provides definitions used in the act. Prohibits a public or private employer from terminating the employment of an employee for joining any fire department or Rural Fire Protection District. Prohibits a public or private employer from terminating the employment of an employee who is absent or late to work in order to respond to an emergency prior to the time the employee is to report to work. Provides that he employer is not required to pay the employee for time missed at work due to responding to an emergency. Allows employer to request written statement from supervisor of the fire department. Requires employee who is absent or late to work in order to respond to an emergency to make a reasonable effort to notify employer. Allows employee who is terminated in violation of act to bring civil action against the employer.
- Measure failed: Ayes: 16 Nays: 75